What Is SEO / Search Engine Optimization?
SEO stands for "search engine optimization." In simple terms, it means the process of improving your site to increase its visibility when people search for products or services related to your business on Google, Bing, and other search engines. The better visibility your pages have in search results, the more likely you are to garner attention and attract prospective and existing customers to your business. You can rank your keywords through Digital Marketing SEO techniques in SERP.
How does SEO work?
Search engines provide results for any search query a user enters. To do so, they survey and "understand" the vast network of websites that make up the web. They run a sophisticated algorithm that determines what results to display for each search query.
Why SEO focuses on Google
To many people, the term "search engine" is synonymous with Google, which has about 92% of the global search engine market. Because Google is the dominant search engine, SEO typically revolves around what works best for Google. It's useful to have a clear understanding of how Google works and why. Digital Computer Classes can guide Google's working style.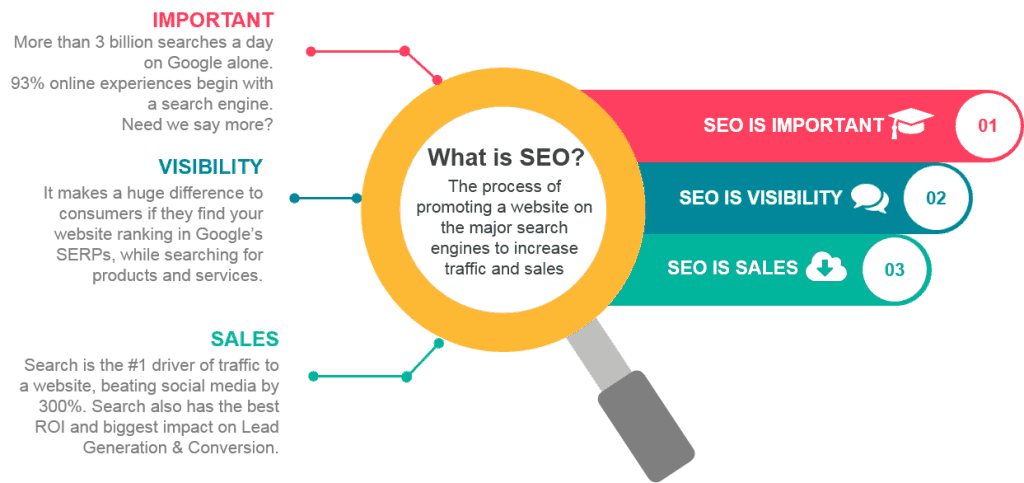 Similarities between paid and organic search
It's not all about differences – there are also similarities between paid and organic search:
Keyword research: You use a search engine for both paid and organic searches, and both require a user to enter a keyword. So you need to do keyword research for organic search and paid search.
Landing pages: Both types of search require you to create landing pages. For SEO, the landing page needs to be connected to your website. For paid search, it can be the same landing page you use for organic, or it can be a completely separate stand-alone page that sits off your website.
Traffic: Generating traffic is a major goal of both paid and organic search. Most importantly, both paid and organic search traffic includes user intent. That is, someone is asking Google a question or searching for information – they are in an active mindset and as a result, they are more likely to take action once they find this information. The above three similarities are majorly focused on students in Digital Computer Classes.
The three pillars of SEO
As a digital marketer, knowing how to get your brand, website, or company found by searchers is a core skill, and understanding how SEO is evolving will keep you at the top of your game. While SEO changes frequently in small ways, its key principles do not. We can break SEO into three core components or pillars that you need to be familiar with – and action regularly:
Technical Optimization: Technical Optimization is the process of completing activities on your site that are designed to improve SEO but are not related to content. It often happens behind the scenes.
On-Page Optimization: On-Page Optimization is the process of ensuring the content on your site is relevant and provides a great user experience. It includes targeting the right keywords within your content and can be done through a content management system. Common examples of content management systems include WordPress, Wix, Drupal, Joomla, Magento, Shopify, and Expression Engine.
Off-Page Optimization: Off-Page Optimization is the process of enhancing your site's search engine rankings through activities outside of the site. This is largely driven by backlinks, which help to build the site's reputation.
How do search engines work?
Search engines are used by people when they have a query and are searching on the internet for the answer. Search engine algorithms are computer programs that look for clues to give searchers the exact results they are looking for. Search engines rely on algorithms to find web pages and decide which ones to rank for any given keyword. There are three steps to how search engines work: crawling, which is the discovery stage; indexing, which is the filing stage; and ranking, which is the retrieval stage.
Step 1: Crawling
The first step is crawling. Search engines send out web crawlers to find new pages and record information about them. We sometimes call these web crawlers 'spiders' or 'robots'. Their purpose is to discover new web pages that exist, and also to periodically check the content on pages they've previously visited to see whether they've changed or been updated.
Search engines crawl web pages by following links they've already discovered. So if you have a blog post and it's linked from your homepage, when a search engine crawls your homepage, it will then look for another link to follow and may follow the link to your new blog post.
Step 2: Indexing
The second step is indexing. Indexing is when a search engine decides whether or not it is going to use the content that it has crawled. If a crawled web page is deemed worthy by a search engine, it will be added to its index. This index is used at the final ranking stage. When a web page or piece of content is indexed, it is filed and stored in a database where it can later be retrieved. Most web pages that offer unique and valuable content are placed in the index. A web page might not be placed in the index if:
Its content is considered duplicate
Its content is considered low value or spammy
It couldn't be crawled
The page or domain lacked inbound links
Step 3: Ranking
The third step is the most important, and that is ranking. Ranking can only happen after the crawling and indexing steps are complete. So once a search engine has crawled and indexed your site, your site can be ranked.
There are more than 200 ranking signals that search engines use to sort and rank content, and they all fit under the three pillars of SEO: technical optimization, on-page optimization, and off-page optimization. Some examples of signals that search engines use to rank web pages are:
Keyword presence in the title tag – Whether the keyword or a synonym was mentioned on the page and within the title tag
Loading speed of web page – Whether the web page loads quickly and is mobile-friendly
Website reputation – Whether the web page and website are considered reputable for the topic being searched for
Finally, remember, even when you have fully implemented your SEO strategy, SEO is never finished. With Digital Computer Classes techniques, a famous computer training institute, you may need to change tactics midway through, play a long game, and wait to see the results. But with a solid SEO foundation in place – and a little patience – the benefits of your SEO strategy should become apparent, leading to a better user experience for customers and more conversions for your business. You can find modern SEO training institutes and techniques in Digital Computer Classes.